Salon Reopening Guide: Everything You Need to Know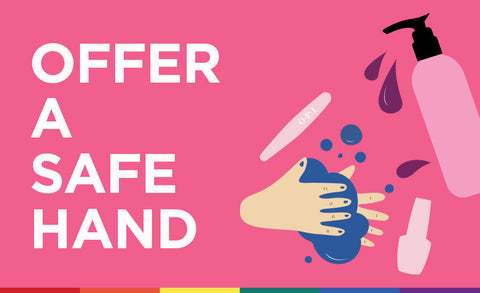 After the World Health Organization declared the outbreak of coronavirus (COVID-19) a pandemic, it was clear its impact would change the salon-going experience in numerous ways. As some cities begin to loosen restrictions and allow salons to reopen, we want to take some time to share how you can offer clients a safe hand as you welcome them back.

We put together a helpful guide that features tools on how to communicate new sanitation protocols, how you should be operating during this time, and we even threw in some downloadable posters and flyers you can hang in your salons to help reassure your clients. Read on for the complete guide.

1. How to Prepare for Salon Reopening:

Prior to reopening, there are steps you should take to reduce the risk of exposure to help both you and your clients feel more comfortable:

- Clean, and disinfect the salon prior to reopening
- Stagger appointments to limit the number of people in the salon
- Confirm appointments 48 hours in advance to ensure clients are in good health and have not come in contact with others who are sick
- Consider waiving appointment cancellation fees during this time
- Have adequate stock of single-use items such as files, buffers, etc.
- Ask clients to bring their own mask, if necessary, provide one
- Review your state sanitation guidelines as each state will differ

2. Ensure You and Your Staff Are Properly Equipped:

Before you reopen, make sure your salon is fully stocked with the proper tools and products to protect you, your staff, and your clients:

- Have adequate amounts of face masks, disposable gloves, closed trash bags and cans, and disposable glasses
- Ensure staff members are aware of all new protocols and communicate any team rotations that might occur to help minimize the number of people on your floor. Fully train your staff prior to reopening on the new salon policies and guidelines.

3. Book Appointments Early:

We know your clients are eager to see you, so now is the time to book appointments early. This will help ease the influx of walks-ins, ensuring your waiting area is kept at a lower capacity.

4. Communicate Increased Sanitation Protocols:

Transparency about the extra measures you and your salon are taking is extremely important. We encourage you to reach out via email, social media, and phone to communicate this before you reopen and to help guide you in this conversation, we've created:

- Handy flyers, table cards, and posters that you can print out and post in your salon to help reassure clients. See here for downloadable table tent cards, here for downloadable posters, and here for a downloadable door flyer, which can also be emailed.
- A guide featuring pointers on what to say to your clients when you get in touch with them or welcome them back – you can download it here.
- Tools to help answer Frequently Asked Questions that clients may have
- Instagram examples including stories and posts, as well as Pinterest pins to help ensure your clients are offered a safe hand

5. Keep a Clean and Safe Environment at All Times:

Once you're up and running, it's important to maintain these practices to keep your environment safe and clean. For tips on how to sanitize each area within your salon, read on, then download our guide for quick reference.

Reception and Retail Area:

- Discard magazines and non-essentials entirely. Chairs in your waiting area should be spaced appropriately to allow for a safe distance between clients, and if possible, organize an outdoor waiting area using tape.
- Continuously wipe down soft surfaces (like sofas and couches) with a clean towel, while maintaining the disinfection of all hard surfaces (door handles, keyboards, phones, light switches, etc.) after each use.
- Lastly, consider switching to online booking and virtual payment options to cut down on the handling of cash or cards.

Restrooms:

- All surfaces should be cleaned and disinfected regularly, and soft goods like paper towels should be replaced more often.
- If possible, consider upgrading to touchless faucets and soap dispensers to minimize the need to touch surfaces during operations.
- Lastly, avoid using restrooms as extra storage to avoid contamination.

Pedicure Bowls:

After every pedicure service, remove all parts of the bowl that can be removed and clean and disinfect them according to proper protocol in a diluted disinfectant.

- While soaking parts, scrub and rinse the bowl entirely, then return all removable parts and disinfect once re-assembled.
- Be sure to turn on any jets in the pedicure bowl, if applicable, and allow the disinfectant solution to circulate for a full 10 minutes. If you don't have jets, simply let the solution sit for the same amount of time.
- Once complete, empty the water and allow it to air dry.
Social Interaction:

Ensure you maintain safe social interaction according to the established guidelines in your city.

- Examples include: wearing a mask during your services, offering masks to clients, keeping a safe distance from clients and coworkers, suggesting contactless payments, and avoiding handshakes and hugs.
---