Different Styles of Tie-Dye Nails
Want to decorate your manicure with colorful colors in autumn too? Today I will recommend a few tie-dye nails to everyone. Dreamy old tie-dye is colorful. Now, let's put this dreamy color at our fingertips.
Tie-dye colours are very popular. Its free lines of casual design breaks through the previous nail modelling rules of lines and patterns, more casual and good match, colourful colour scheme makes people happy, just like the warm sunshine of Western Europe.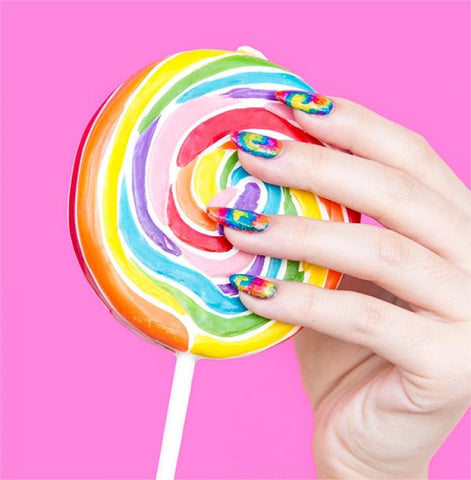 First up are the lollipop bright tie-dye colours. Big red, green, blue and purple, the strong contrasting colours are full of lively atmosphere. The colourful candy colours clash together for a playful and lively look. Adorning such a design on your fingertips is not only colour saturated, but also colour clashing. If you embellish it with some doodles or decorations, it will give an even livelier look. This kind of nail art is so colourful and full of personality that I believe it will be welcomed by many people. If we travelled to a tropical island at this time, it would be perfect to match this manicure. The blue sea water with colourful manicure looks a bit literary.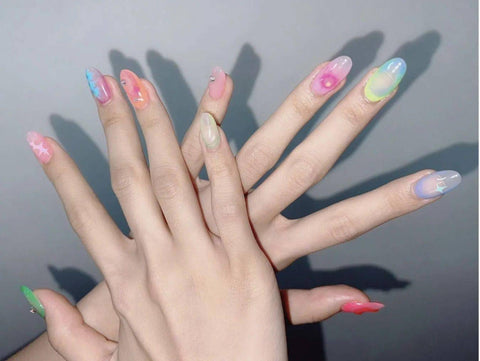 If you want a whiter and everyday manicure, then we can try a low saturation tie-dye manicure. Choose colours with some grey tones to go with it for a more dreamy effect. Or choose colours with some lighter tones to match. Then dye these colours further and the dreamy vibe will be further enhanced. If you feel a little monotonous, you can add some small diamonds for decoration, I believe the final presentation of the feeling must be very fairy!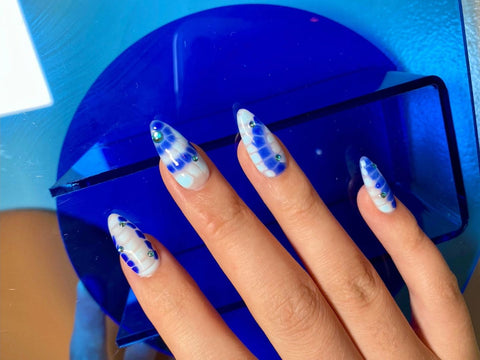 Tie-dye doesn't have to be a clashing effect with lots of different colours. If you are afraid of not matching the colours well, you can actually try a tie-dye effect in one colour or in the same shade. For example, choosing blue and white, blue and purple or other colours with consistent shades can make a nice effect. Because the tie-dye itself has a unique pattern, the final presentation of the manicure will also be very distinctive.
Tie-dye itself is very ethnic. Especially when dark blue is intertwined with red and white, it has a niche ethnic character. Due to the uncertainty of tie-dye itself, the pieces that emerge are unique. At this point these three colours are mixed to create the perfect tie-dye effect. It's like a work of art. Simple but without losing the sense of sophistication. Very good looking.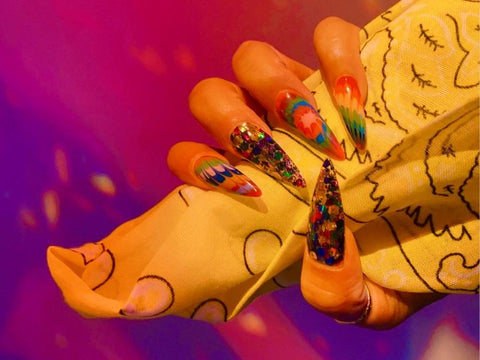 The most classic colour of tie-dye nail art is rainbow. Nature's colour scheme is really perfect. Gorgeous rainbow colours will bring good enjoyment to people's mood, and will also look childish and lovely. Gradient rainbow in the nails is beautiful and lovely, quite childish and not lacking is generous temperament. If you want to make the match look cooler, then you can try the manicure shown in the picture above. The long nails are embellished with sequins, adding some fashionable and retro atmosphere.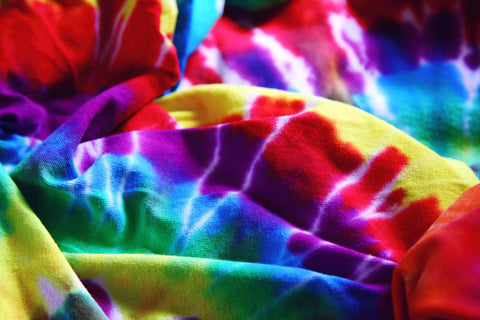 Tie-dye is a fashion element not to be missed. If you don't want to wear these bright colours on your body, try it on your nails first. Whether it's a psychedelic rainbow or an understated blue swoosh, these are definitely classic tie-dye nail styles, so take a look and make an appointment with your manicurist for a new look.
If you have a better nail design feel free to leave a comment at ins!
🎯Instagram:https://www.instagram.com/coscelia_official/
🎯Facebook:https://www.facebook.com/CosceliaOfficial/
🎯Youtube:https://www.youtube.com/channel/UCTmhHb6qj26Qu87_D6qAdkw
🎯Tiktok:https://www.tiktok.com/@coscelia_nail_official?lang=en&is_copy_url=1&is_from_webapp=v1
---