Art Gel Polish in Nail Art
Hands are not only the second face of a woman, but also the best business card to show her style. Nails are the finishing touch of this card. How would you sculpt the finishing touch of your card? Pure color manicure makes you feel monotonous, stickers and not unique enough, graffiti and worried by the nail technician technology affects the effect is not good. Don't worry, there are some nail art gel polish simple and unique, follow me to see it!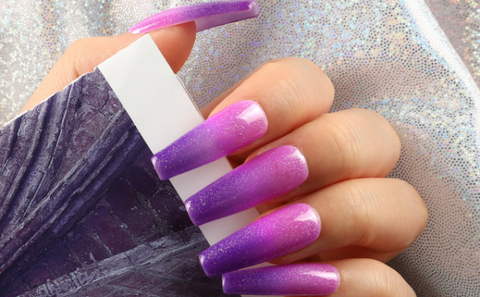 As the name suggests, it is a kind of gel polish that can sense the temperature, and with the change of temperature, its color shade will also be changed. The manicure in the picture looks like two colors at first glance, but it's actually a temperature change gel. When the temperature is lower than 31 ℃, it is a deep purple fingertip, like the night stars as beautiful shining; when the temperature is higher than 31 ℃, it will become pink, which is both cute and can set off your skin more white and tender. A kind of gel polish to make two different colors of nail art, its magical properties are very suitable for today's gradually becoming cold season, come to experience its magic!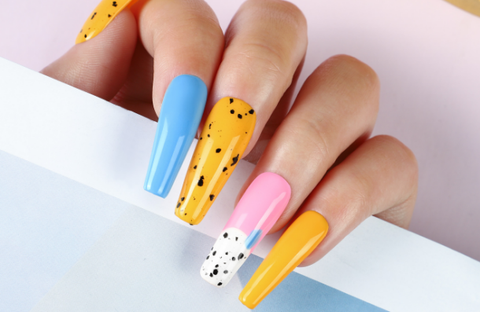 It has a very cute and graphic name because the effect it has on the nails looks very much like eggshells. Eggshell doesn't mean eggs, but quail eggs. However, eggshell gel itself is transparent and needs to be matched with different colors of nail polish to show different effects. The nail color in the picture is bright and colorful, simple use will appear monotonous and lack of some beauty, with eggshell gel polish not only makes the nail look more lovely, but also very unique.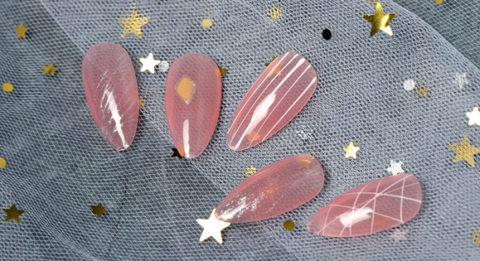 The nail art in the picture uses light pink as the base color, which is understated and gentle; with the smooth white lines, it makes the whole nail art look simple and clean, daily and versatile. When you choose to do a more complex and linear graffiti design on your nails, most nail technicians will make use of the nail spider gel polish to complete it. Because hand-drawn very test of technology and can not guarantee the unity of the line, pull the nail spider gel polish is very good elasticity is not easy to break, nail technicians can be manipulated through the strength to complete the drawing of very fine lines, and the overall aesthetic sense of the whole, the degree of smoothness is also very good.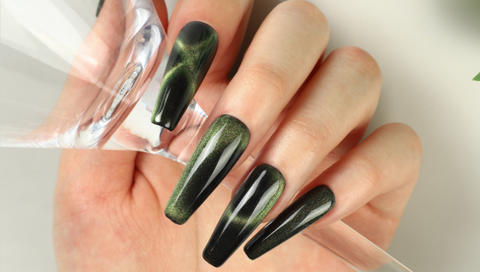 Cat eye gel polish, as the name suggests, the effect is like a cat's eyes, can be in the light of the change will then show different light and shadow. The manicure in the picture is like the eyes of a cat in the dark, deep and mysterious. No light when it looks very ordinary, but when you are in the light will find that it reflects the light will form a narrow bright band of light, like a cat's eye stone as striking!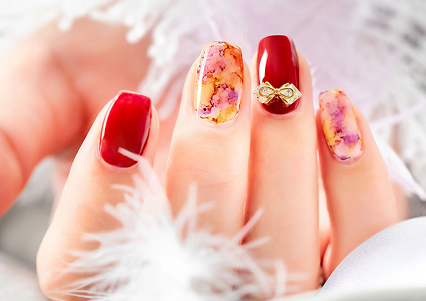 Blooming gel is a colorless, transparent and very fluid gel. The manicure in the picture has a red base color with gold decorations to give people a feeling of richness and a strong sense of vision. The fireworks-like color of the blooming flower makes the nail more layered, and the overall effect is more beautiful. And the ever popular blush nails are also completed with the use of blooming gel!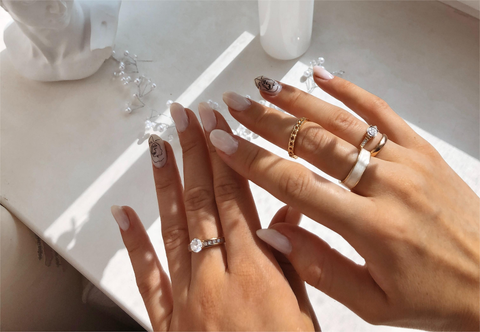 So many novelty and magic gel polish, are you excited? Come and try this magic for yourself and make your nail art unique!
 Spanish version:
Las manos no son sólo la segunda cara de una mujer, sino también la mejor tarjeta de presentación para mostrar su estilo. Las uñas son el toque final de esta tarjeta. ¿Cómo esculpirías el toque final de tu tarjeta? Las uñas de colores sólidos dan sensación de monotonía, las pegatinas no son lo bastante únicas y los grafitis preocupan por el efecto de las habilidades del técnico de uñas. ¡No te preocupes, hay algún gel de arte en el arte de uñas que son simples y únicos, ven conmigo a echar un vistazo!
Como su nombre indica, es un tipo de esmalte de uñas que puede sentir la temperatura, y con el cambio de temperatura, su tono de color también cambiará. La manicura de la foto parece de dos colores a primera vista, pero en realidad es un gel de cambio de temperatura. Cuando la temperatura es inferior a 31℃, la punta de los dedos adquiere un color morado intenso, tan bello y brillante como el cielo estrellado por la noche; cuando la temperatura es superior a 31℃, se convierte en un color rosa, que tiene un aspecto femenino y realza la luminosidad de la piel. Un tipo de pegamento para hacer dos colores diferentes de arte de uñas, sus propiedades mágicas son muy adecuadas para la temporada de frío que se está convirtiendo gradualmente en la actualidad, ¡ven a experimentar su magia!
Tiene un nombre muy bonito y gráfico porque parece cáscara de huevo cuando se usa en las uñas. Las cáscaras de huevo no son huevos, sino huevos de codorniz. Sin embargo, el gel de cáscara de huevo en sí es transparente y debe combinarse con diferentes colores de esmalte de uñas para conseguir distintos efectos. El color de uñas de la foto es brillante y colorido, usarlo solo parecerá monótono y falto de algo de belleza, combinarlo con pegamento de cáscara de huevo no sólo hace que la uña parezca más bonita, sino también muy singular.
La manicura de la imagen utiliza una base rosa claro, que es a la vez discreta y suave; con las líneas blancas suaves, hace que toda la manicura parezca sencillo y limpio, cotidiano y versátil. Cuando se opta por hacer diseños de graffiti más complejos y lineales en las uñas, la mayoría de los técnicos de uñas hacen uso del adhesivo muy línea para completar el diseño. Debido a que el dibujo a mano es muy prueba de la tecnología y no puede garantizar la unidad de la línea, tirar de la línea de pegamento es muy buena elasticidad, no es fácil de romper, el técnico de uñas puede ser manipulado a través de la fuerza para completar el dibujo de líneas muy finas, y el sentido estético general es completa, la suavidad es también muy bueno.
Gel de ojo de gato, como su nombre indica, el efecto es como los ojos de un gato, puede estar en la luz del cambio a continuación, mostrar diferentes luces y sombras. La manicura en la imagen es como los ojos de un gato en la oscuridad, profunda y misteriosa. ¡Cuando no hay luz se ve muy normal, pero cuando estás en la luz se encuentra que refleja la luz formará una estrecha banda brillante de la luz, como una piedra ojo de gato como sorprendente!
Halo gel es un gel incoloro y transparente que fluye muy bien. La manicura de la foto tiene una base roja con adornos dorados para dar a la gente una sensación de riqueza y un fuerte sentido de la visión. Los fuegos artificiales, como un precioso halo floral, hacen que la manicura tenga más capas y el efecto general sea más bonito. Y las siempre populares uñas ruborizadas también se hacen con halo de gel.
Tanto gel nuevo mágico, ¿estás emocionada? Ven a probar esta magia y haz que tu manicura sea único.
🎯Instagram:https://www.instagram.com/coscelia_official/
🎯Facebook:https://www.facebook.com/CosceliaOfficial/
🎯Youtube:https://www.youtube.com/channel/UCTmhHb6qj26Qu87_D6qAdkw
🎯Tiktok:https://www.tiktok.com/@coscelia_nail_official?lang=en&is_copy_url=1&is_from_webapp=v1
---